Louis Vuitton
Damier Graphite
Card Holder

Description:
Part of the city chic Damier Graphite collection, this compact vertical card holder has two slots for credit cards, transport or business cards. It slips easily into a jacket or pants pocket.

Measures Approximately (LxHxD): 4.3" x 2.8"

- Damier Graphite canvas and cross calf linings
- Two card slots

Retails: $220

Condition:

Used for a few months, but in excellent shape. I am the original owner. There are some minor superficial flaws such as the slots being loose and stretched. However, it will still hold your cards tightly. Corners are nearly perfect and there are NO marks, stains, holes and etc. I would rate it as a conservative 8.5/10.

Comes with a box, no dustbag.




Made in France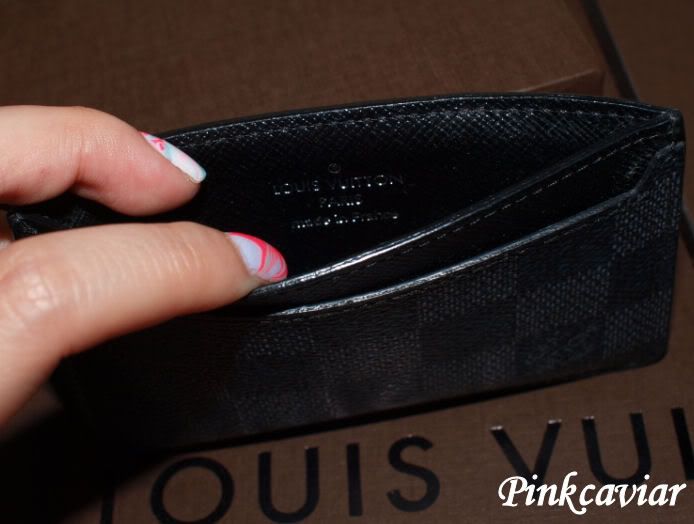 Rest assure, this bag is 100% Guaranteed Authentic or your money back.
Winning bidder has the option of directly contacting www.caroldiva.com to personally authenticate this auction page.
The fee ($5) will be reimbursed to the buyer upon their responds.

In combination, authentication can also be issued through a written letter by a Manager (NO Sales Associate) if the item is found not to be authentic.
Please have them call me while the bag is under their supervision.

Furthermore, to prevent a bait and switch, a security tag has been fastened at the bag.
The tag will be served as a binding agreement between the buyer and seller; if you're not satisfied with the item due to authenticity -simply do not remove the lock or tag and have it authenticated. If the lock or tag is found to be tampered, broken, or removed -the guarantee is void and no longer valid -no payment will be refunded.

However, if you're complete satisfied and confident with the Authenticity of the bag (which you will be), you can remove the tag anytime.
Thus, when the tag has been removed it proof you know it's authentic.
In addition, I'm a member of The Purse Forum (username: Pinkcaviar) you can PM via the forum to confirm.